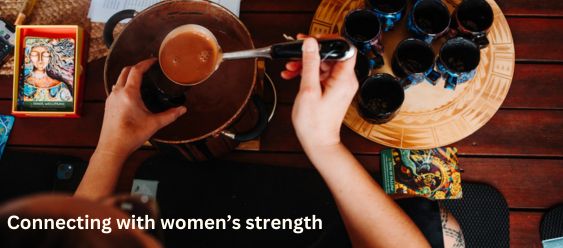 Fipe Preuss: Living Koko co-founder, Pasifika movement guide, Space Holder and Cacao Creative.
Living Koko is honoured to offer wellness practices that go beyond engaging with our beautiful koko plant medicine products. Our Wahine Toa ("wah-hee-ne toh-ah") workshop is a sacred and intensive experience that we offer to those looking to deepen their connection to themselves and sisterhood. Taking its name from a Pasifika phrase meaning a woman's strength, Wahine Toa is a gender and non-binary inclusive event to support and guide those who connect with feminine energy. Our most recent workshop was held on Saturday 19 August, with 16 women joining us for what was a powerful and moving day of reflection, movement, breathwork, ceremony and connection.
Drawing on revered indigenous practices and traditions from the Pacific Islands and Aotearoa New Zealand, and honouring the divine feminine energy, Wahine Toa is a full day experience and takes participants on their own unique inner journey whilst supported by sisterhood in a nurturing space. With an intent to replenish the self and soul and re-ignite the fire within, we commence the session by sipping traditional Pasifika plant medicine elixirs of kava Kava Kuo Heka from Tonga, and cacao Koko Samoa from Samoa. These are brought forward in ceremony through movement and chant and help set the awareness and intention for the day, with the heart-opening qualities of koko deepening our connection to ourselves and each other.  
Through ceremony Pasifika movement, meditation and focused breathwork, our wahine sisters are encouraged to move energies and emotions through their bodies to help heal and resolve deeply held emotions, release painful forgotten stored memories, and erase unhelpful narratives. With compassion, gentleness and respect, we support our sisters through this journey, allowing them to truly feel their emotions and unburden their bodies, within a sacred space where everyone feels secure to share their story. Towards the end of the session, we sit as a group and share a meal and koko, reflect gently, connect and hold space for anyone to talk about what they have experienced.
Witnessing these incredible women work through this process is such an honour, and I love seeing the positive impact it has on them. They walk away feeling lighter, many of them journal for days afterwards and are able to let certain memories go, reframe situations and give themselves a much more gentle narrative about it. Wahine Toa is such an incredibly powerful and fulfilling experience, and a beautiful way to honour and nurture yourself if you are looking to go deeper into your self-care and breathwork practice.
We look forward to holding more of these workshops in 2024 so keep an eye out on our website and social media to experience this incredible journey for yourself.